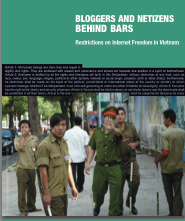 Vietnam experienced the world's fastest growth in Facebook users over the past year, but the Communist authorities have cracked down on Internet freedom, a new report reveals.
More than 30 people are in prison or awaiting trial for blogging about corruption and other politically sensitive issues, according to Bloggers and netizens behind bars: restrictions on internet freedom in Vietnam, a new report from the Vietnam Committee on Human Rights and the International Federation for Human Rights (FIDH).
"The Vietnamese Communist Party (VCP) perceives the Internet's expansion as a potential challenge to its political monopoly," says the report.
"Apart from a brief period of relative tolerance in 2006 when Vietnam was seeking membership of the World Trade Organization (WTO) and hosting the Asia-Pacific Economic Cooperation (APEC) summit in Hanoi, the government has systematically cracked down on Internet freedom, stepping up controls of the Internet and service providers, intensifying monitoring and censorship, arresting, harassing and intimidating 'netizens and introducing new legislation to criminalize controversial web content," it notes.
Eager to exploit the Internet's commercial potential, the authorities have since realized its subversive impact, the report notes, and the regime now routinely subjects bloggers and other "netizens" to arbitrary detention, harassment, intimidation, assaults and violations of due process rights.
The crackdown on bloggers is "definitely backfiring," said Penelope Faulkner, vice president of the Vietnam Committee on Human Rights. "This is why Hanoi is worried: They have been promoting Internet access for trade, now they fear they have unleashed something they can't control."
In an indication of the regime's anxiety (and authoritarian learning), the state is following a precedent set by China and, more recently, Iran, by mobilizing hundreds of pro-regime bloggers to counter on-line dissent and promote the party line, the BBC recently reported.
"On the one hand, they hate social media because it is out of their control," said Alexander Vuving, an associate professor at the Asia-Pacific Center for Security Studies. "But at the same time, they use it." 
Unable to suppress online social networks, Vietnam has "learned to tolerate, and even exploit them when they serve state interests," the report notes:
In order to contain social networking and subject it to tighter state control, in May 2010 the government launched its own version of Facebook, a state-run social network called GoOnline, which requires users to register with their real names and ID numbers when opening an account. So far, the site has only a modest following, but the government aims to have 40 million users (almost half the population) by 2015. According to OpenNet Initiative, an academic project which investigates Internet filtering practices, expanded membership of this site would significantly strengthen the state's monitoring and surveillance capacities.
"It has, without question, expanded the scope of political discourse in Vietnam and significantly ratcheted up pressure on the state, which is increasingly viewed as corrupt and unaccountable," said Jonathan London, an assistant professor at City University of Hong Kong, while conceding that "its longer term effects on politics remain uncertain."
Vietnam Committee on Human Rights and the International Federation for Human Rights are supported by the National Endowment for Democracy, the Washington-based democracy assistance group.