In the wake of the Covid pandemic, journalism has thrived in certain countries as people seek out factual information, and investigative reporting has persisted in several of the most hostile environments, according to a new Freedom House report.
As one expert on Cuba said, "Activists and independent journalists have been willing to risk fines and imprisonment to report accurately on what is taking place in the country." Civil society organizations have also worked tirelessly to maintain accountability in face of new challenges.
The Cuban government's brutal restrictions on free speech fall particularly hard on journalists, Human Rights Watch reports. Camila Acosta (above) has learned this from experience. In just the one year since August 2019, when she began working as an independent journalist for the news website CubaNet, Acosta has endured multiple instances of targeted abuse.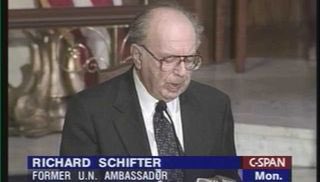 Ambassador Richard Schifter, former Assistant Secretary of State for Human Rights and Humanitarian Affairs in the Reagan administration, died this past October 4th, adds Cuban democracy advocate Frank Calzon:
Born in Vienna to a Polish Jewish family, he was the only one able to flee Nazi-occupied Austria to the U.S. in 1938 at age 15. He fought against the Nazis in the U.S. Army, and later earned his law degree from Yale Law School in 1951. His entire family perished in the Holocaust. Shifter was a steadfast defender of victims of repression throughout the world. Unlike others in the Washington human rights community at the time, he did not turn a deaf ear or a blind eye to the cries for help of Fidel Castro's victims. His perseverance and soft words were resented by some who are no longer with us and by others who, to this day, continue their advocacy for tyranny in Managua, Caracas and Havana. Some of the Americans he mentored remain committed to the cause of human rights. I was honored to have counted on his friendship and wise counsel. 
"In the State Department, in the White House, and at the UN, Dick was a passionate advocate for American leadership, for the security and well-being of Israel, for Soviet Jews seeking freedom, and for the defense of human rights," said American Jewish Committee CEO David Harris.
RIP Ambassador Richard Schifter, 1923-2020. In 1938 he fled Nazi Vienna for the U.S. at age 15, then joined the U.S. army & fought the Nazis in Europe. Graduate of Yale Law School, he represented the U.S. at the United Nations and passionately resisted their anti-Israeli bigotry. pic.twitter.com/WXjs0xEziA
— Hillel Neuer (@HillelNeuer) October 4, 2020