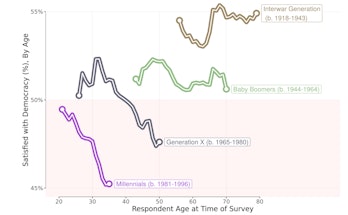 Young people are less satisfied with democracy and more disillusioned than at any other time in the past century, especially in Europe, North America, Africa and Australia, a study by the University of Cambridge has found, Reuters reports:
Millennials, or those born between 1981 and 1996, are more disillusioned than Generation X, those born between 1965 and 1981, or Baby Boomers born between 1944 and 1964 and the Interwar Generation of 1918-1943….The picture is bad in the United States, Brazil, Mexico, South Africa, France, Australia and the United Kingdom. But satisfaction has increased in Germany, South Korea and many of the post-Communist countries of Central and Eastern Europe.
The main reason behind the disillusion with democracy among young people was inequality of wealth and income, the report said, citing figures showing that Millennials make up around a quarter of the U.S. population but hold just 3% of the wealth. Baby Boomers held 21% of the wealth at the same age.
The findings come from the largest-ever global dataset of democratic legitimacy, reports suggest. Cambridge researchers collaborated with the HUMAN Surveys Project to combine data from close to five million respondents in over 160 countries between 1973 and 2020 who were asked about their degree of satisfaction with democracy in their country.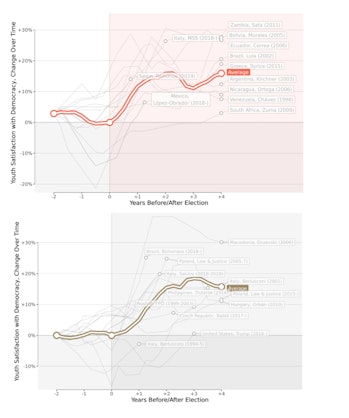 "This is the first generation in living memory to have a global majority who are dissatisfied with the way democracy works while in their twenties and thirties," said Dr Roberto Foa, lead author of the report from Cambridge's Department of Politics and International Studies.
"By their mid-thirties, 55% of global millennials say they are dissatisfied with democracy, whereas under half of Generation X felt the same way at that age. The majority of baby boomers – now in their sixties and seventies – continue to report satisfaction with democracy, as did the interwar generation."
In the emerging democracies of Latin America, Africa and southern Europe, the team find "transition fatigue": marked drops in satisfaction after 25 years of democracy, as generations come of age who lack the memory of previous dictatorships and fights for political freedom.
"Right across the world, we are seeing an ever widening gap between youth and older generations on how they perceive the functioning of democracy," said Foa, a Journal of Democracy contributor.
"This democratic disconnect is not a given, but the result of democracies failing to deliver outcomes that matter for young people in recent decades, from jobs and life chances to addressing inequality and climate change."