A long-detained opposition leader in Iran called for a nationwide referendum about whether to write a new constitution for the Islamic Republic amid nationwide protests shaking the country, AP reports. Mir Hossein Mousavi's call, posted by the opposition Kaleme website, included him saying he didn't believe Iran's current system giving final say to a supreme leader worked any longer.
Mohammad-Reza Bahonar, a leading hardliner, has contradicted what the Islamic Republic has tried to portray as limited protests, conceding that the unrest was "more widespread and deeper" than previous demonstrations, Iran International adds. He admitted that "certain grievances and inefficiency in the economy, politics and even culture and diplomacy exist in the country."
The UN has also recorded some 14,000 arrests during the demonstration, which were initially against Islamic laws making it mandatory for Iranian women to cover their hair with a headscarf, Euronews adds.
Protests have simply "decreased" because "citizens are more cautious", says Roya Boroumand, co-founder of Abdorrahman Boroumand Center, an Iranian human rights NGO. "But they are not over," she continued.
On this day in 2006, the Islamic Republic executed Hojat Zamani.
He was accused of "supporting the Mojahedin Organization and bombing" and was sentenced to death without access to his appointed lawyer.

Read more about him on his #OmidMemorial page:https://t.co/zuCkgMV1MM pic.twitter.com/lb2eE0WGl4

— Abdorrahman Boroumand Center (@IranRights_org) February 7, 2023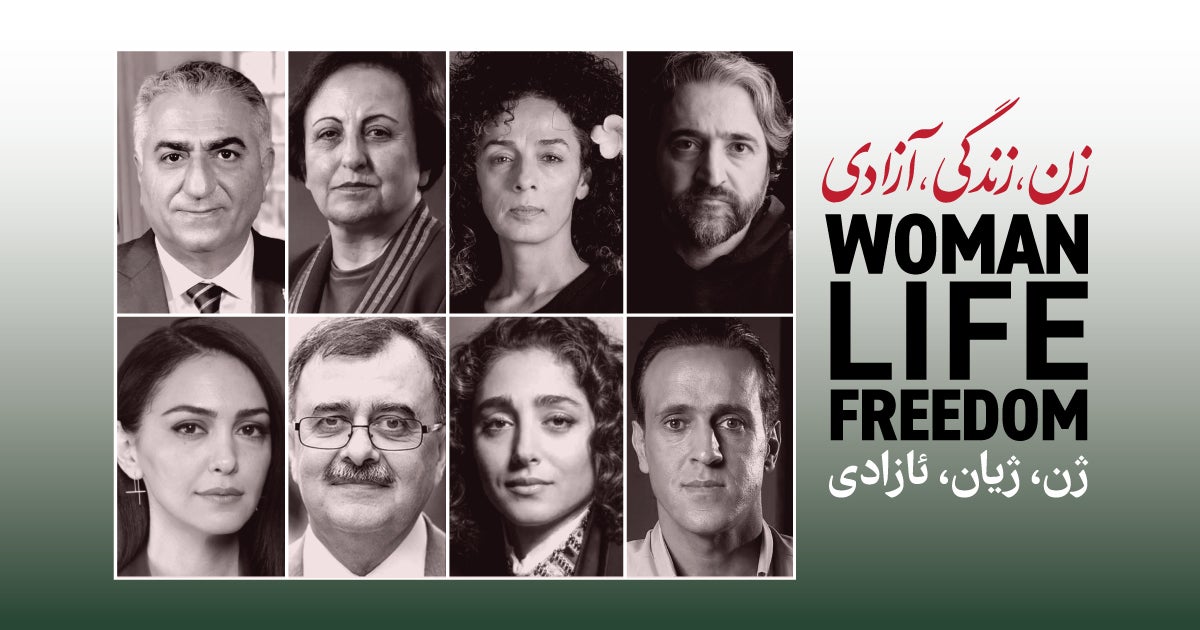 For the first time since the uprisings began, eight of the Iranian democracy movement's prominent diaspora leaders will share the stage to talk about the continued viability of the movement, their common vision for Iran's future, and how democratic change in Iran can change the world, Georgetown University's Institute for Women, Peace and Security reports. Ambassador Melanne Verveer invite you to a major event, featuring (in alphabetical order):
Masih Alinejad (right), Author, Journalist, Women's Rights Activist, and Founder of the "My Stealthy Freedom" Movement
Nazanin Boniadi, Human Rights Activist, Actress, and Amnesty International UK Ambassador
Dr. Shirin Ebadi, Nobel Laureate, Lawyer, and Author (virtual)
Dr. Hamed Esmaeilion, President of the Association of Families of Flight PS752 Victims
Golshifteh Farahani, Renowned Iranian Actress, Human Rights Activist (virtual)
Ali Karimi (below), Former Captain of Iran's National Soccer Team, Bayern Munich, Human Rights Activist, 2004 Asian Footballer of the Year (virtual)
Abdullah Mohtadi, Secretary-General of Komala Party, Iranian Kurdistan (virtual)
H.E. Reza Pahlavi, Advocate for Secular Democratic Iran
Moderated by Karim Sadjadpour, Senior Fellow, Carnegie Endowment for International Peace, Adjunct Professor, Georgetown University
Friday, February 10, 2023
12:45 PM – 2:30 PM EST
9:15 PM – 11:00 PM IRST
Virtual Event
Join the Facebook Livestream (HERE) Co-hosted with The Georgetown School of Foreign Service and the Iranian Cultural Society.
Very cool of German President Frank-Walter Steinmeier to meet with Iranian football legend (and former Bayern Munich player) Ali Karimi.

.@alikarimi_ak8 has reached increasing popularity due to his stern opposition to the regime and support for #IranRevolution2022 pic.twitter.com/MkE3HvSk1D

— Arash Azizi آرش عزیزی (@arash_tehran) December 21, 2022