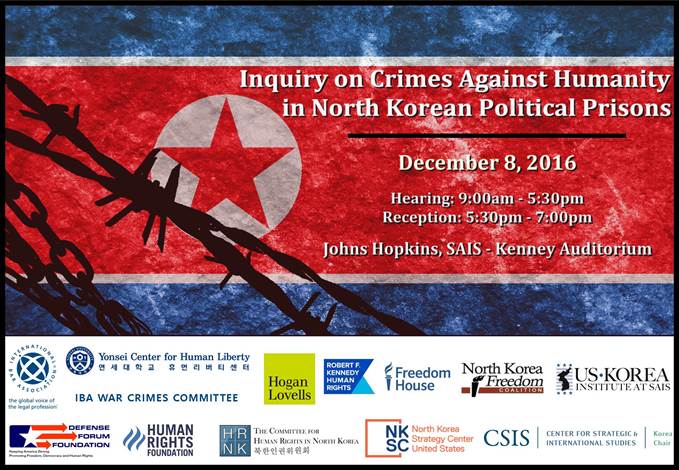 A groundbreaking hearing will feature live testimony from three North Korean defectors—a former prisoner and two former state security officials who helped to oversee North Korea's network of political prisons.
Three renowned jurists will preside over the hearing: Navanethem "Navi" Pillay(Chair), Mark Harmon, and Thomas Buergenthal. Collectively, these luminaries have served on the International Criminal Court (ICC), International Criminal Tribunal for Rwanda (ICTR), International Criminal Tribunal for the Former Yugoslavia (ICTY), the Khmer Rouge Tribunal (ECCC), and the International Court of Justice (ICJ). Notably, it was during Ms. Pillay's tenure as the United Nations High Commissioner for Human Rights that the U.N. Commission of Inquiry on Human Rights in the Democratic People's Republic of Korea ("COI") conducted its investigation and issued its landmark report.
The hearing also will feature expert testimony from renowned experts on North Korea's gulags and its penal system generally—David Hawk and Ken Gause. With pro bono assistance from the law firm of Hogan Lovells, the case will be presented by members of the IBA's War Crimes Committee, Greg Kehoe, Federica D'Alessandra and Steven Kay, Q.C., the latter of whom worked on notable trials such as the Milosevic case (ICTY), and the Kenyatta case (ICC). The hearing will be held at the Johns Hopkins School of Advanced International Studies (SAIS) on DECEMBER 8th in Washington, D.C., and will be followed by a reception. Please see the agenda for a schedule of the proceedings.
To RSVP, please click HERE or anywhere on the appended e-invitation. (To livestream the event, please click: INQUIRY LIVESTREAM).
Contact Ms. Sosseh Prom at sosseh.prom@int-bar.org.