Democracies need to develop "new capabilities" to counter authoritarians' information warfare, says a senior U.S. official.
"We need to give renewed emphasis to the information environment," said Andrew Knaggs, deputy assistant secretary of defense for Special Operations and Combating Terrorism. "Our competitors have proven how irregular approaches can effectively shape an environment to their advantage in the pursuit of their national interests."
"Our adversaries have weaponized disinformation and propaganda to their advantage….Rather than hiding from the transparency afforded by the 24-hour news cycle and pervasive social media, our adversaries embrace that cycle and they use it to their advantage," he added.
"It will also require new partnerships beyond traditional actors, throughout the world, through efforts to amplify voices of [non-governmental organizations] and individual citizens who bring transparency to malign activities of our competitors," he said.
Eileen Donahoe, executive director of Stanford University's Global Digital Policy Incubator, said there is a "need for a new governance model" to prevent core values like democracy and human rights from being compromised in an increasingly globalized and digital world, Nikkei reports.
"We don't need new values," said Donahoe, a former U.S. ambassador to the United Nations Human Rights Council. "We have enduring values. We must protect them," she told a Davos forum.
Asked how this relates to China, she told the Nikkei Asian Review following the panel discussion that "we need to hold strong and make it very clear that we are not going to throw out the window these enduring values as we move forward."
"They've got to pick their heads up and understand," said Donahoe, a board member of the National Endowment for Democracy. "There are some things that are not going to go away. Either they're part of it or not. They should be part of it."
So-called "dominant party authoritarian regimes" have surged in number from around 13 percent of all countries before the end of the Cold War to around 33 percent today, notes analyst Richard Carney. Most are located in Africa, the Middle East and Asia. They are also present in Eastern Europe and in the Americas. Russia is one of them; so are Turkey, Malaysia, Singapore and Venezuela, he writes for the Conversation: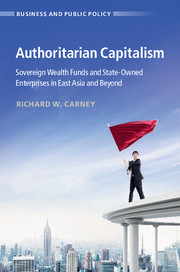 These regimes often engage in the same kinds of bad behavior as other autocracies. But their behavior is critically different in both the motivations and methods used to further authoritarian ends, as detailed in my new book "Authoritarian Capitalism"… These countries' capitalist systems have some of the trappings of liberal democracies in the West. But these regimes use capitalism to further their authoritarian rule.
For example, Russia's means of pressuring foreign media involve taking advantage of Western legal-financial systems, he adds:
Russia has engaged in disinformation campaigns that exploit weaknesses in the West's freedom of speech protections, as documented by experts at the Center for Strategic and International Studies and at the Center for the Study of Democracy. And Russian companies have acquired sufficiently large ownership stakes in foreign media companies to influence their operations.
Democracies' openness and messiness have lots of advantages, but one big weakness: national security, adds CEPA's Edward Lucas. Difficult decisions get delayed. Flexible, speedy responses to threats bump into legal, ethical, and normative constraints. Authoritarian leaders are mostly untroubled by such details. As geopolitical competition heats up, that matters.
The U.S. State Department's division for Democracy, Human Rights, and Labor has issued a Notice of Funding Opportunity: Assessing the Human Rights Impact of Emerging Technologies. RTWT
Resilient Democracy in a Digital World
In reaction to recent campaigns to compromise democratic elections and to influence public opinion, Western governments have taken steps to create more resilient democracies in the digital world. Join Carnegie for a discussion with experts from the United States and Europe on how governments and the private sector can take steps to strengthen democracy and democratic institutions on both sides of the Atlantic. The discussion will be introduced by Denis McDonough and moderated by Suzanne Kelly. RSVP 
11:15 AM — 12:15 PM EST February 12, 2019, Washington, DC.
Resilient Democracy in a Digital World
Date: Tuesday, February 12, 2019
Time: 11:15 AM to 12:15 PM
Location: Carnegie Endowment for International Peace
Denis McDonough is a visiting senior fellow in Carnegie's Technology and International Affairs Program. Previously, he served as White House chief of staff for President Obama's second term, managing the four thousand member White House staff, as well as cabinet secretaries and agency leaders.
Christopher C. Krebs is the first director of the U.S. Department of Homeland Security's Cybersecurity and Infrastructure Security Agency (CISA). He overseas CISA's efforts to defend civilian networks, secure federal facilities, and manage systemic risk to national critical functions.
Kajsa Ollongren is the deputy prime minister and minister of interior and kingdom relations of the Netherlands. She oversees domestic policy, civil service, public administration, elections, local governments, and intelligence.
Thomas Rid is the professor of strategic studies at Johns Hopkins University's School of Advanced International Studies. Rid has over a decade of experience in international security and intelligence studies. Rid is currently finishing his sixth book, Active Measures: A History of Disinformation, coming in early 2020.
Suzanne Kelly is CEO and publisher of the Cipher Brief. Kelly previously served over a decade with CNN as a correspondent and executive producer, covering national security and intelligence.