On April 5, at lunchtime, 43-year-old Eliot Higgins, founder of  the independent Bellingcat group of online investigators, was in the middle of "geolocating" an appalling video of Russian atrocities in Bucha, Ukraine, Le Monde's Lucas Minisini writes:
Using his computer and a smartphone, the virtuoso of online investigation compared the two minutes and 19 seconds of the film to a series of satellite images available on Google Earth. They allowed him to establish that the murder happened at the intersection of Yablonska and Vokzalna Streets. His careful study of the satellite images also concluded that the large white house in Bucha next to which the cyclist collapsed was destroyed by an explosion on March 11.
"Those BMD vehicles [Boyevaya Machina Desanta, literally 'combat vehicles for airborne troops'] that we saw shooting at the cyclist, probably BMD-2s, are only used by Russian special forces," Higgins told Le Monde. RTWT
The more determined democracies are to avoid war, the greater the risk that autocracies will wage it, argues Andrei Kozyrev, the Russian Federation's first foreign minister (1991–96) and author of the 2020 memoir, The Firebird: The Elusive Fate of Russian Democracy.
The claim of military success helps autocrats to seize and hold power, he writes for the Journal of Democracy. Thus, the war in Ukraine will likely be a defining moment for Russia that will also have repercussions all over the world. If the West allows Putin to claim victory in Ukraine, antidemocracy populists everywhere will celebrate, believing that they can do whatever they want, and Putin will cement his dictatorship in Russia.
In the face of Russia's invasion, Ukraine's civil society organizations (CSOs), faith-based networks, and extensive networks of newly emerged volunteers are providing a vital humanitarian response, particularly at the local level, according to a new analysis.
While their capacity may be limited, Ukrainian CSOs – including partners of the National Endowment for Democracy (NED) – are more agile in their ability to reach the affected population even in the most hazardous areas and may have a better understanding of local needs. Civil society sees their contributions to the humanitarian response as a way of participating in the national effort, notes Ukraine: Bridging humanitarian response, a report from the ACAPS nonprofit consortium:
The political landscape in Ukraine remains complex, despite current solidarity and consensus
on the governance of the crisis. Differences in political agenda between the Government and
the opposition are likely to resurface and influence humanitarian operations and relationships
between the Government, local authorities, and non-governmental and informal sectors in
the response.. In recent years, Ukraine has experienced a series of political reforms alongside endemic issues, such as corruption and attacks against journalists, civil society activists, and members of minority groups. The police and judiciary response to those issues has often been inadequate, with the politicization of courts further compounding the problem.
Nevertheless, after many international humanitarian groups evacuated their staff from the Donbass region in January and February 2022, the gap was filled by local civil society. In addition to the assistance channeled via the Government and NGOs, much assistance (which goes largely unreported) comes from other networks, groups, and individuals not specialized in humanitarian delivery. RTWT
On June 8, 2022 in Washington, D.C., the NED will recognize the resilience of Ukrainian civil society with its 2022 Democracy Award, honoring four partners engaged in critical work advancing and protecting human rights, demanding accountability, strengthening independent media, and mobilizing support for their country during a harrowing time of war, namely: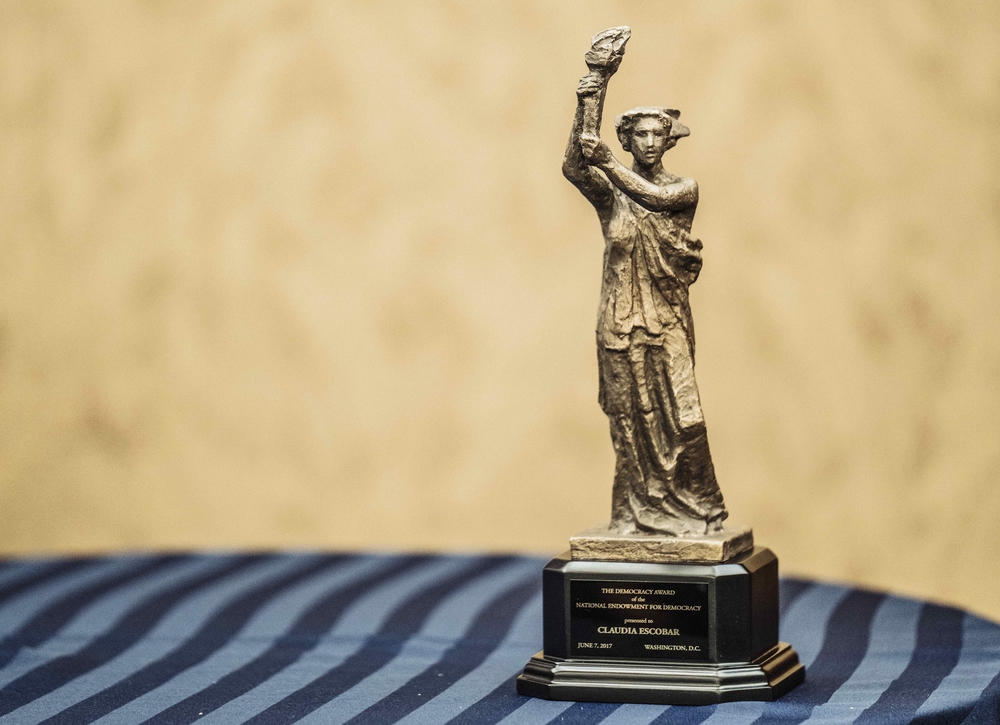 "Ukraine's democratic development, led by its people and civil society, is key to the country's success—not only to Ukraine's defeat of Russian forces, but also to ensure Ukraine's democracy emerges stronger from this horrific war," said Damon Wilson, NED president and chief executive officer of NED. "These four organizations exemplify the heroic struggle, courage, and determination of millions of Ukrainians who risk everything to defend democracy and freedom."
The award ceremony will take place as part of a conference that will focus on the past, present, and future of civil society in Ukraine, convening leaders from Ukraine, members of the U.S. Congress, foreign policy experts, and the media. RSVP